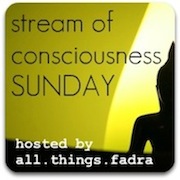 How do you feel about change? Do you like routine and predictability? Does it bring you comfort or discontent? Talk about it general or tell us a specific story about a big change in your life and how you feel about it.
Change is good.
But it would be a lie to say I don't like routine and predictability – especially since I find I thrive when I impose structure in an otherwise unstructured day, activity, task, or what have you.
I want to be stable. I've moved quite a bit in the past several years, mostly across the Georgia/Florida line. But I don't want to have to think to recall my "last" address. I want to put down roots.
When I don't feel the routine, structure, or location works, a shake up is in order, and that's exactly the case right now. I moved here in July, hauling most of my stuff, yet again, across the state line. I like my apartment quite a bit, but months after I'd settled in, I found myself still imagining, praying about, thinking about, "a home I love and can easily afford." It surprised me, but I knew deep down I hadn't quite found it. Enter, change.
I needed a bit of a nudge. I was just about to let myself get comfortable in this space. I had fallen into the routine of this address. Predictable. Routinized. But the renewal letter came. Rent is going up (dramatically) and I will no longer pretend this is the best place for me.
I've got the moving thing down. I can pack up all of my stuff in 1-2 days max, and unpack it in the same amount of time. I'm excited about house hunting. I'm ready for a change.
---
This was my 5 minute Stream of Consciousness Sunday post. It's five minutes of your time and a brain dump. Want to try it? Here are the rules…
Set a timer and write for 5 minutes.

Write an intro to the post if you want but don't edit the post. No proofreading or spellchecking. This is writing in the raw.

Publish it somewhere. Anywhere. The back door to your blog if you want. But make it accessible.

Add the Stream of Consciousness Sunday badge to your post.

Link up your post below.

Visit your fellow bloggers and show some love.